On November 3, we gathered at the migrant outreach center to mark fifteen years since Kino's birth and celebrate with mole, mass, and sharing memories. We are grateful to all who came to the event, and to those who accompanied us in spirit.
In many Latin American countries and communities, reaching 15 years and celebrating a quinceañera marks the transition of a young girl from childhood to adulthood. At most ceremonies, this new adult is re-introduced into their community alongside family and friends who have nurtured her along the way, and who will accompany her into the future.
This symbolism resonated deeply with everyone who came out on November 3. Executive Director Joanna Williams says, "When we talk about KBI as a community, we're really a community of families. Here in our shelter we have lots of families with small children and many of the migrants who come here are part of families, too. The people who come and support us are part of families. I'm struck by how much this represents Jesus' words when he asked 'who is my mother' and the function of the body of Christ. In this work, we each have our role in advancing a world where we can love more deeply, in which hope is true and not just optimism, and one where people can migrate with dignity."
As an organization, we have spent the last 15 years growing as a community of care, rooted on both sides of the border, grounded in our Catholic faith, working alongside people on the move and communities who receive them.
Highlights from our Quinceanera
"We have come here from many places and represent many parts of KBI's work," Executive Director Joanna Williams shared in her opening remarks. At the event, Kino welcomed migrants, Bishops, priests from the diocese of Nogales Fr. Scott Santarosa, SJ, representing the Jesuits West, Missionaries of the Eucharist Srs. Maribel, Alicia, Cecilia, Imelda, Pina, Diana, Kino board members, donors, volunteers, community members from Nogales, just to name several groups that make up the broad coalition supporting migrant dignity.
Kino was born out of collective faith. Over the last fifteen years, God has stirred our hearts and imaginations to dream up ways to accompany and stand in solidarity with people on the move. Through Kino, we are able to join Jesus' work of restoring all things and bringing the kingdom deeper into the here and now.
And so it was fitting that we started our day with mass, communing with the body of Christ and with Jesus Himself. At 11:30, along with hundreds of others, Bishop Leopoldo of the Diocese of Nogales and Bishop Weisenburger of the Diocese of Tucson concelebrated mass for us all.
"The church is interconnected, and even in the moments when we seem to be in different roles or seasons, God uses each part of the church to benefit of the whole. For example, you might notice that Bishop Weisenburger and I are wearing different liturgical colors. That's because in Mexico, we are recognizing a day of solemnity, but the US is not. We are different. And yet we complete each other when we stand together – the white I am wearing represents holiness, and the green that Bishop Weisenburger is wearing represents hope. We need both in order to move forward in faithfulness together," Bishop Leopoldo shared.
Bishop Weisenburger echoed the sentiment, saying, "I think that symbolizes what Kino does: creating space for us to encounter one another as children of God as we seek to bring His kingdom here. Kino is doing what all of us Christians are called to do: meet Christ in our migrant siblings."
With our hearts full and souls nourished by the Eucharist, we gathered together to enjoy a specially prepared meal of mole together. Students from a Catholic High School in Nogales, Sonora called Colegio Gante, served the meal to guests with warmth and joy. Before mass and during the meal, a wonderful youth orchestra from a marginalized community in Nogales called La Mesa, played wonderful melodies. As we sat and enjoyed what felt like a heavenly banquet, Luis Fer and Naty, two members of the Jesuit Network who lead hospitality efforts, also played songs of hospitality and joy. The two had traveled alongside other migrants all the way from Colombia to join Kino's celebration in Nogales as a show of solidarity and hope.
"What we seek is a world where every person can have a good life. Focusing on hospitality is one way we can care for our wounded humanity. Through connection and human encounters, we counteract a culture that too often views some people as disposable," said Luis Fer. As they serenaded the room, children began to get up and dance to the melodies.
Unfurled throughout the shelter was a long paper timeline of Kino's history. Photos and captions from throughout the last fifteen years marked various points along the display. At each station, attendees were invited to write out their memories of the moment in question. At the end of the timeline, guests filled in their hopes for the future.
"We wanted to do a collaborative telling of Kino's history to reflect the deeply collaborative and interconnected nature of our identity," explained Joanna. "It is an act of collective memory, just as we know that everything we do in the future to create a world of migration with dignity must be collective, interwoven, and rooted in mutual care."
Joanna reminded the attendees that the Ignatian spiritual tradition boldly embraces both reflection and imagination for the future. "St. Ignatius championed taking time to reflect on the past as a means of hearing God and discerning God's leading for the future. Today, we get to do the same – listening to God, thanking Him for what He has already done, and allowing him to fill us with His dreams for the future."
Then and now – a look back at a few watershed moments over Kino's history
Here are a few seminal moments included on the timeline and made possible through the faithfulness of migrants and people like you.
"In the beginning, I wanted to work with the poor," remembers Sister Engracia Robles, a Missionary Sister of a Eucharist. "I was invited here because the Jesuits wanted to do something in Nogales.The first thing I noticed was migrants in Nogales. It seemed like they were just unloading big buses of migrants here. They were disoriented, looking for a place to go, scared, and hungry."
In collaboration with JRS / USA, she began to offer meals to migrants in Nogales, Sonora and conduct an assessment to determine the best way to support them. Most of the people who partook were men who had recently been deported and were sheltering under the Mariposa bridge.She organized a group of volunteers from the local parishes in Ambos Nogales to cook and serve meals. This mission was the beginning of KBI, and offering meals and other humanitarian aid remains a cornerstone of our work in Nogales, Sonora.
The first Kino shelter opened in 2008 under the name "Casa Nazareth," and at the beginning it exclusively served women. In those days, fewer than 30% of migrants were women.
"Some of the women at the shelter were women who had been deported. When they were deported, they were exposed to violence and exploitation on top of being displaced. That's why we worked to make the first shelter feel like a home." recalls Sister Engracia.
Sister Josefina "Pina" Bejarano remembers, "It was a place where women, exhausted and beaten down, came to rest and find community with other women that would give them strength to continue the journey."
Over time, the shelter has grown to accommodate 80 families at a time. During their stay, guests co-create a community of care and have access to psychological support to process the trauma of migration, including weekly group therapy sessions.
KBI noticed early in its organizational journey that empathy and compassion for migrants was not something that was limited to religious members or adults. Children and adolescents within our communities showed unwavering dedication to seeing migration with dignity become real.
This dedication accelerated the growth of our Education team and inspired the establishment of Kino Teens. First founded at Lourdes Catholic School in Nogales, Arizona, the Kino Teens program was established in partnership with KBI as a space for students to learn, discuss, and connect with migrants in their community. The program grew and became a student- lead organization, supported by KBI and a faculty advisor. Students began networking and using KBI resources to raise awareness on migrant issues and border reality with their own friends and family. This first Kino Teens chapter inspired others to emerge soon after; first in high schools throughout Arizona, and eventually spreading to schools across the U.S. Today, there are 36 Kino Teens chapters throughout the country and 322 people participated in our educational programs in 2022.
As Kino grew, advocacy became a primary focus of our efforts to push for workable, humane, and just migration policies. As we heard migrant stories, the realities of abuse and injustice were both unavoidable and rarely brought to light. To lift up migrants voices and call on the U.S. government for meaningful change, Kino's advocacy team, The Jesuit Conference of the United States, and Jesuit Refugee Service/USA meticulously documented the experiences of migrant men, women, and children repatriated from the U.S. to the cities along Mexico's northern border, with a particular emphasis on Nogales. The report investigated five common problems that migrants faced during migration and upon apprehension, detention, and deportation by the U.S. migration authorities. Since this seminal first report, our advocacy team has published ten more – one per year, shining a light on the lack of accountability and abuse rampant in the U.S. migration system.
Since Kino's inception, we were aware that migrants needed legal assistance. In 2017, Kino Border Initiative started an initiative with Florence Immigrant and Refugee Rights Project called the Border Action Team (BAT). BAT began providing legal services to migrants in our migrant aid center in Nogales, Sonora, Mexico. A program that started with one attorney has since grown to two attorneys and four legal assistants.
The Florence Project's Border Action Team continues to offer legal orientations to migrants who arrive at our migrant aid center in Nogales, Sonora. Through this partnership with the Florence Project, we ensure that migrants are empowered with the information they need to make decisions about their immigration cases.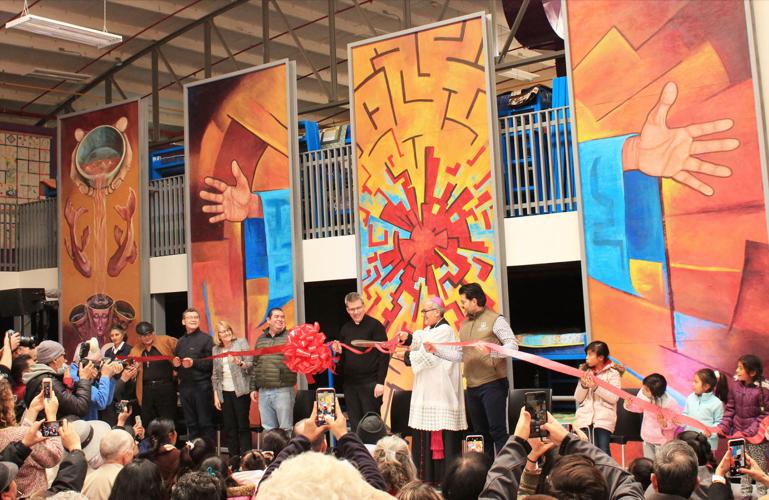 On February 12 in 2020, The Kino Border Initiative formally inaugurated our new Migrant Aid Center on Wednesday, February 12th. Over 600 people were in attendance to mark the occasion, including donors, volunteers, migrants, supporters, staff and others. Representatives from each of KBI's six sponsoring organizations spoke at the celebration, and Nogales, Sonora Bishop José Leopoldo González González cut the ribbon.
Let's move forward in faithfulness
"While I hate to see migrants stranded and suffering here, I have so appreciated what people have made of this moment. Migrants have patched together lives for their families while holding out hope for a better future for themselves and their children. They have taken action for advocacy and policy change – growing in their own confidence, leadership, and sense of possibility. Many migrants I speak with believe change is possible, and they're inviting us to join them in the journey of creating that change," Joanna says.
As we reflect on the last fifteen years and look towards the next fifteen, we invite you to come on this journey with us. Through the end of the year, we will be focusing on raising funds to sustain and grow the next phase of our work.
As always, let us move forward in faithfulness and solidarity together.